[vc_row][vc_column][vc_single_image image="728″ img_size="full" onclick="zoom" css_animation="left-to-right"][/vc_column][/vc_row][vc_row][vc_column width="1/2″][vc_column_text]
precision oiltools – history
Established in 2004. Precision Oiltools has its foundations in producing precision manufactured parts to the oil and gas industry. Using the latest CNC manufacturing technology and quality control equipment and a highly skilled and dedicated team. Precision has an excellent reputation for high quality and reliability.
In 2013 A self-funded £3m investment and restructuring phase ensued with Precision Oiltools moving to bespoke state-of-the-art premises, retooling of the workshop facilities with enhanced machining and computerised inspection services, construction of an assembly workshop area with dual overhead cranes, and the fitment of a pressure testing facility.
Immediately following relocation, Precision began to develop our first significant product, the Interventionless Precision Valve (IPV), A downhole barrier valve which reduces cost, time and risk when deployed in the completion phase of new wells. The IPV development was completed wholly in house with the conceptual design, detailed design, manufacture and testing all completed under the one roof.
precision oiltools – vision
The 1st IPV was successfully deployed in early 2016 and since then there have been many further deployments each one with a 100% success rate. At Precision Oiltools our vision is to build on this success and we will continue to provide the industry with intelligently designed subsurface barrier valve technology that will reduce cost, reduce risk and reduce time and we have further development projects already underway.[/vc_column_text][/vc_column][vc_column width="1/2″][vc_column_text]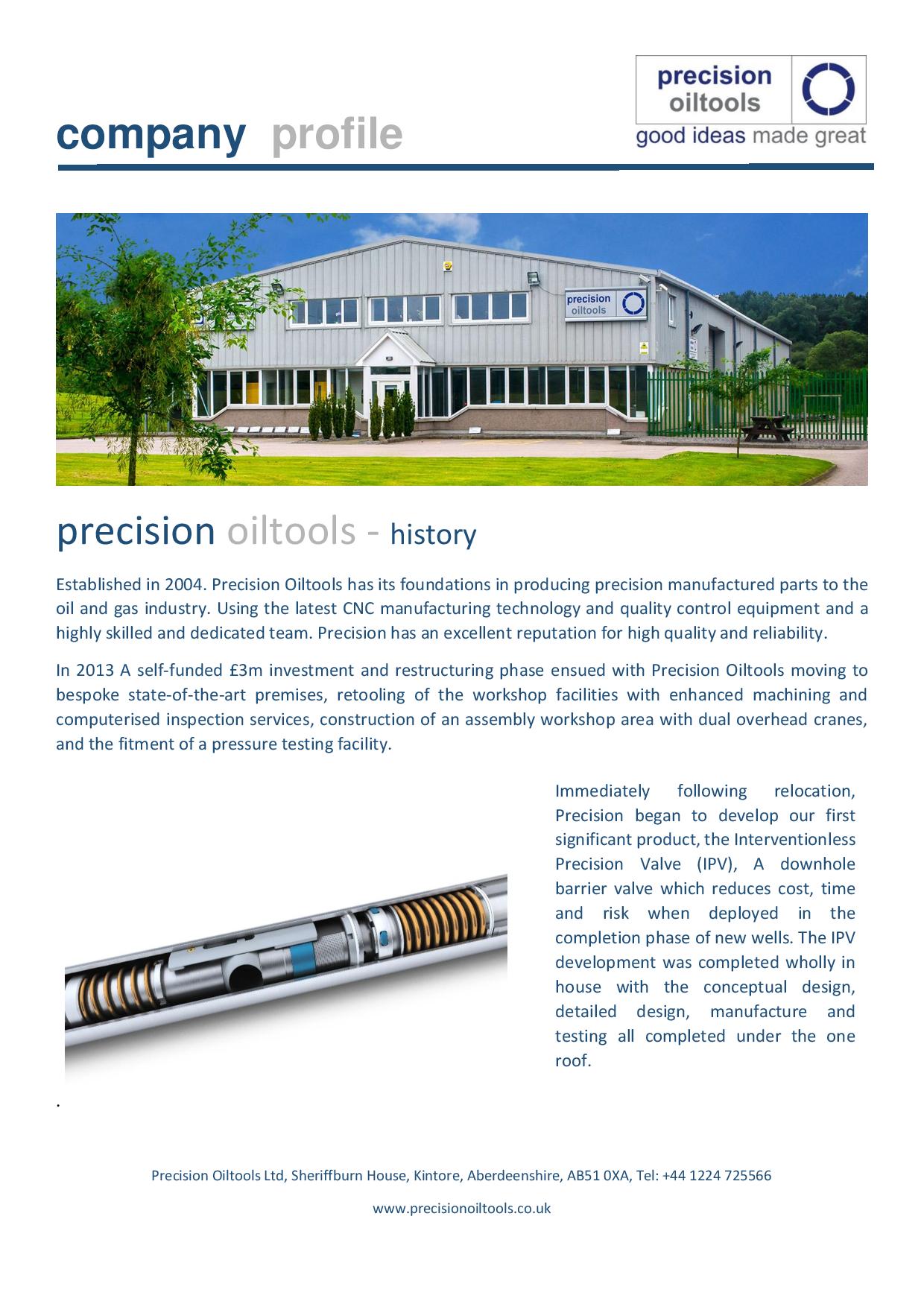 Click here to see our company profile.[/vc_column_text][/vc_column][/vc_row]