[vc_row][vc_column][vc_single_image image="757″ img_size="full" onclick="zoom" css_animation="left-to-right"][vc_column_text]< Back[/vc_column_text][/vc_column][/vc_row][vc_row][vc_column width="1/2″][vc_column_text]Overview:
Building upon the outstanding reliability and success of IPV1, the Precision Oiltools IPV3 has evolved to provide bi-directional completion isolation barrier capability using the IPV1 platform.  Utilising identical field proven sealing and patented equalising barrier valve technology whilst also incorporating the unique robust shear open reliability found in the IPV1 the IPV3 assures trouble-free intervention-less completion deployment.
As with the IPV1 the IPV3 does not require specialist offshore personnel for deployment whereby the barrier configuration is set to Operator specifications onshore. Should conditions dictate however, the barrier valve configuration may optionally be adjusted offshore if operations change prior to RIH.
The IPV3 is deployed in the closed position providing a barrier for Packer Setting and Tubing Testing as well providing an in-flow completion barrier.
An integrated circulation device may be deployed with the IPV3 allowing either forward or reverse circulation whilst RIH and offers remote close options.
Upon opening, the IPV3 will provide the completion with Full Bore ID for any future well intervention that may be required.
Both IPV1 and IPV3 are intelligently designed to eliminate wireline runs:
MITIGATING RISK
SAVING TIME AND COST
REDUCING NPT
.[/vc_column_text][/vc_column][vc_column width="1/2″][vc_column_text]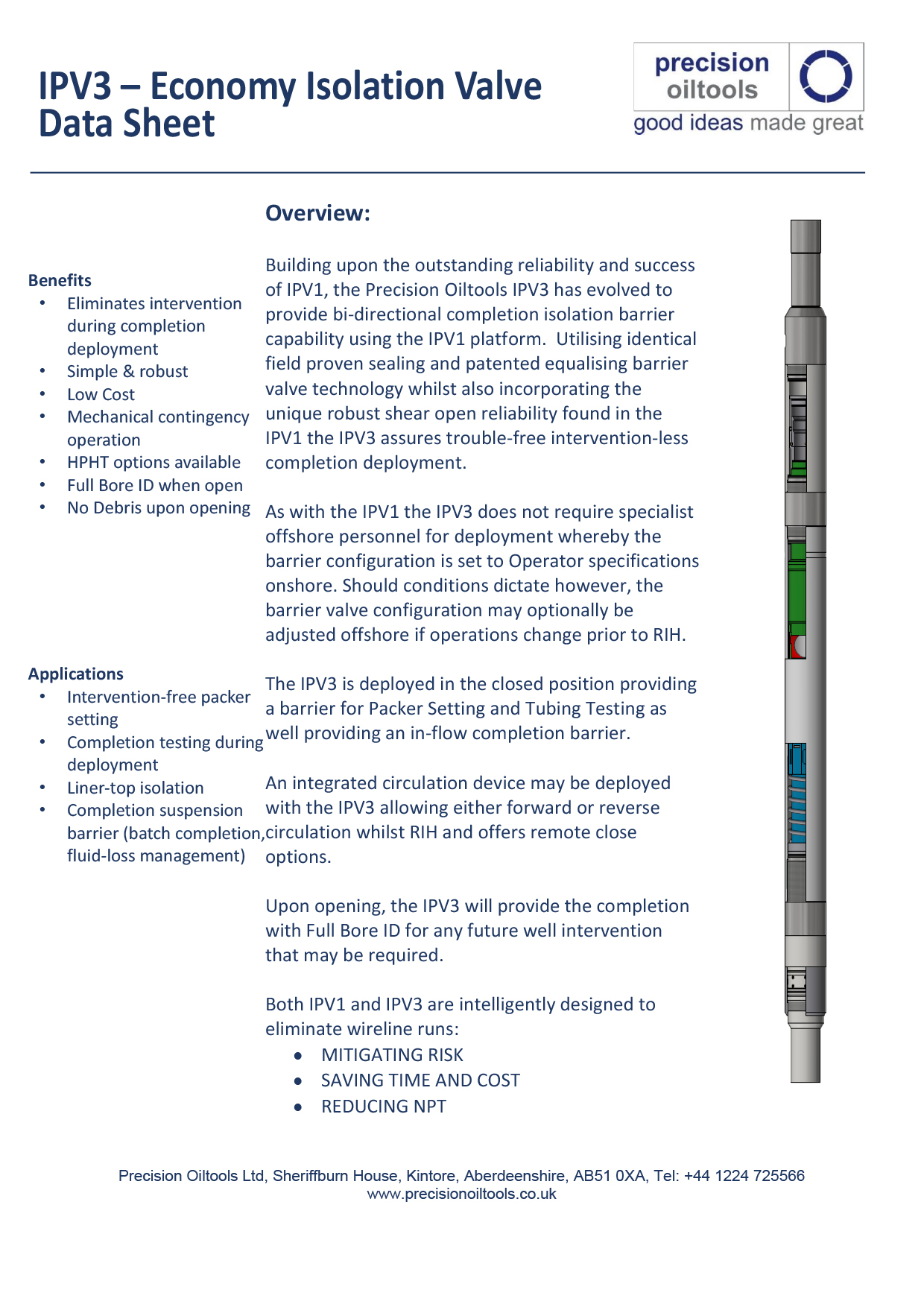 [/vc_column_text][/vc_column][/vc_row]